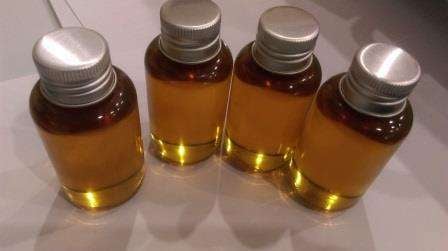 bright stock BS150
Bright stock BS150 ,the present invention relates to lube oil manufacture and more specifically, is directed to increased production of Bright Stock raffinate oil.
BS, raffinate oil is a high-boiling hydrocarbon fraction produced during lube oil manufacture and is well-known in the art.
Generally, in the art, after a vacuum residuum, suitable for lube oil production, has been deasphalted by contacting and extracting with a propane solvent, the propane solvent is stripped off and the resulting extract oil is extracted with an aromatic solvent, such as N-methylpyrrolidone (NMP), to remove aromatic hydrocarbons.
The resulting extracted, deasphalted oil phase, containing mainly saturated hydrocarbons, is known in the trade as "Bright Stock raffinate oil".
This raffinate is subsequently contacted with extracting agents like ketones or alkane hydrocarbon solvents to remove waxy hydrocarbons which are detrimental to lube oil viscosity properties and then subjected to HYDROFINING™ improve the appearance of the oil and remove sulfur.
The resulting oil is termed "BS Oil" and is a lubes base stock component from which many lubricating oils, e.g., gear oil, machine oil, automobile engine oil, are made by blending with other lube stock components.
Analyses the product
| | | |
| --- | --- | --- |
| TEST | TEST METHOD | RESULT |
| APPEARANCE | VISUAL | BRIGHT AND CLEAR |
| COLOR | ASTM D1500 | 3 |
| DENSITY | ASTM D1298 | 9024 |
| FLASH POINT | ASTM D92 | 314 |
| POUR POINT | ASTM D97 | -6 |
| VISCOSITY KIN@100C | ASTM D445 | 32.04 |
| VISCOSITY INDEX | ASTM D2270 | 94 |