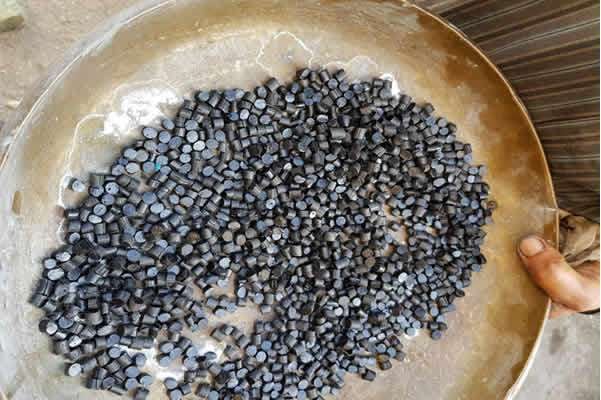 Polymerised bitumen pellets
We insert polymers based on customer design to the bitumen with very high technology machinery to make bitumen pallet and meet asphalt standards for VG grades,PG grades and 
PMB bitumen
. For instance add SBS to bitumen by high quality colloid mill to the bitumen and make pellet and supply to customer then customer mix it with their bitumen and no need extra machine.
Usage of Bitumen pellets
Bitumen pellets
 using as a bonding agent for the production of interior stone floors either in industrial buildings. They are also used for the production of bitumen protection lacquers, in the ripe industry and for printing inks, manufacturing of roofing membranes/felts, bonding of these membranes on work sites, our bitumen fulfil the properties of elasticity, adhesion, cohesion and durability of PMB for roofing membranes and other materials for insulation, tyre, rubber industrial, paint coating and adhesive and plastics.
Benefit of bitumen pellets usage:
Less rubber and additive needed. Easy melt Low bulk density Customize ability
High mechanical strength
Low dependency on temperature fluctuations High resistance to wear and deformation Increased active bitumen quantity in the SMA asphalt composition compared with conventional asphalt, allows extending the pavement life and durability.
Benefit in transport of asphalt pellets
Shipping 
bitumen pellets
 is very east for bulk transport, float in water and do not leak or dissolve — presenting minimal risk of contamination to oceans, lakes and rivers.
Packing of asphalt pellets
The packing of
asphalt pellets
could be in bulk or 1000kg big bag and 25Kg bag.
Our approvals