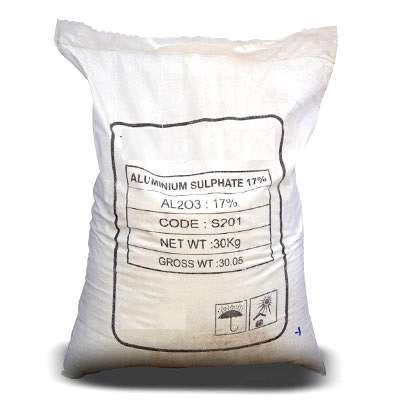 What is Aluminium Sulphate?
 Aluminium Sulphate
is a chemical compound with the formula Al2(SO4)3. It is soluble in water and is mainly used as a coagulating agent (promoting particle collision by neutralizing charge) in the purification of drinking water and waste water treatment plants, and also in 
paper manufacturing
. ·  Synonyms: Aluminiumssalt, Alunogenite, Cake alumimium, Filter 
aluminium
·  INCI: 
Aluminium Sulphate
·  Chemical Formula: Al2(SO4)3 ·  CAS Number: 10043-01-3
Water Treatment Applications
Have you ever wonder how we manage to have safe drinking water flowing out of our faucets? You can thank aluminum sulfate. Municipal water suppliers, such as your local water utility company, make use of alum to treat water for human consumption. In addition, process water (non-drinking water) may also be treated with this chemical for purification when bacteria / sediment would cause an adverse effect. When added to water, aluminum sulfate causes microscopic impurities to clump together into larger and larger particles. These clumps then settle to the bottom of the container and can be filtered out. This makes the water safer to drink. On the same principle, alum is also sometimes used in swimming pools to decrease water cloudiness.
Dyeing Fabrics
Look down at your shirt. It's likely not a plain white t-shirt. Another of the many uses of aluminum sulfate is in dyeing and printing on cloth. When dissolved in a large amount of water that has a neutral or slightly alkaline pH, the compound produces a gooey substance, 
aluminum hydroxide
. This goo helps dyes stick to the cloth fibers by making the dye water insoluble. The role of 
aluminum
 sulfate, then, is as a dye "fixer," which means that it combines with the molecular structure of the dye and the fabric so the dye doesn't run out when the fabric gets wet.
Paper Industry
In the past, it was used in making paper, although synthetic agents have mostly replaced it. 
Aluminum
 sulfate helps to size the paper. In this process, it is combined with rosin soap to change the absorbency of the paper, which changes the paper's ink-absorbing properties. it produces acidic conditions, whereas synthetic sizing agents produce acid-free paper which does not break down as easily
Aluminum Sulfate Usage in Food Industry
Aluminum is used for multiple purposes in the food we eat and  is generally recognized as safe when used in accordance with good manufacturing practice (2). It is soluble in water and. as a result, is mainly used as a thickener and emulsifier (3). Alum can also be used to: Remineralize and clarify water for soft drinks and beer Control pH levels in beets, tomatoes, as well as other vegetables Purification of sugar beet juices Control pH and color wine and liquor Act as a leavening agent in cake mix (baking soda) Curdle and thicken cheese (4).
Textile Industry
It is used for color fixing in Naphthol based dyes for cotton fabric. Other Uses Leather tanning, lubricating compositions, fire retardants; decolorizing agent in petroleum, deodorizer; food additive; firming agent; dyeing mordant; foaming agent in firefighting foams; fireproofing cloth; catalyst; pH control; waterproofing concrete; aluminum compounds, zeolites etc.
STANDARD SPECIFICATION OF ALUMINIUM SULPHATE
ITEM
LOW FERRIC
NON FERRIC
First Class
Qualified
First Class
Qualified
Al2O3 % =
15.8
15.6
17
16
16Ferrous (Fe) % =
0.5
0.7
0.005
0.01
Water Insolube % =
0.1
0.15
0.1
0.15
PH(1% Aqueous solution) =
3.0
3.0
3.0
3.0
Arsenic (As) % =
0.0005
0.0005
Heavy metal (Pb) % =
0.002
0.002
ALUMINUM SULPHATE IN 3 CHARATERISTICS
à Low Iron à Non – Iron à Liquid
FEATURE OF LOW IRON ALUMINUM SULPHATE
·       White to light tan colored, ground crystalline solid. ·       NSF certified for use in the treatment of drinking water at 150 mg/L maximum. LOW-IRON ALUMINUM SULPHATE PRODUCT APPLICATION AND BENEFITS
Applications
·       Charge Neutralization ·       Coagulation ·       Liquid-solids Separation ·       Phosphorus Removal ·       TOC Reduction ·       Wastewater Treatment ·       Water Clarifications
Benefits
·       Phosphate and Color Removal USES ·       Water and waste water treatment, paper manufacturing FEATURE OF IRON FREE ALUMINUM SULPHATE ·       Aluminum Sulfate Solution – Iron Free is a clear water white aqueous. ·       NSF certified for use in drinking water at a maximum dosage of 150 mg/L(dry basis) IRON FREE ALUMINUM SULPHATE PRODUCT APPLICATION AND BENEFITS Applications ·       Charge Neutralization ·       Coagulation ·       Liquid-solids Separation ·       Phosphorus Removal ·       TOC Reduction ·       Water Clarifications Benefits ·       Effective in Color Removal USES ·       Water and waste water treatment ·       Paper manufacturing
HOW DANGEROUS IS ALUMINUM SULFATE?
Dangers and Warnings When aluminum sulfate is mixed with water, it forms sulfuric acid that burns human skin and eyes. Contact with the skin causes a red rash, itching, and a burning feeling while inhalation irritates the lungs and throat. When inhaled, it immediately causes coughing and shortness of breath.
HOW IS ALUMINIUM SULFATE MADE?
Aluminium sulfate is formed by reacting with the correct amount of sulphuric acid to freshly precipitated aluminium hydroxide. The solution that results is then evaporated and allowed to crystallize. Accessible as pure, lustrous crystals, granules, or powder.
WHAT TYPE OF COMPOUND IS ALUMINIUM SULFATE?
Aluminium sulfate is an ionic compound, a combination of both positive and negative ions. Ions are charged atoms, which may either be monatomic ions (single atoms) or polyatomic (multiple atoms combined to form a charged part). Aluminium forms a + 3 ion, Al+3, and sulphate is the -2 polyatomic ion, (SO4)-2.
WHAT IS THE SMELL OF ALUMINIUM SULPHATE?
Aluminium sulfate is an odourless, white crystalline hygroscopic compound, moderately water-soluble and insoluble in organic solvents. This has an acidic flavour.
HOW DO YOU DISPOSE OF ALUMINUM SULFATE?
Absorb small spills with sand or vermiculite. Place contaminated material in appropriate container for disposal. If spilled on the ground, the affected area should be removed to a depth of 1 to 2 inches and placed in an appropriate container for disposal.
LIQUID ALUMINUM SULFATE (LIQUID ALUM)
à is a clear, light green, slight yellow, brown, amber or orange-like tinted aqueous solution. Iron-free and food-grade liquid alum are clear and a slight tint to colorless.
LIQUID ALUMINUM SULFATE  APPLICATION
Liquid aluminum sulfate is used in water treatment for the removal of phosphorous and water clarity. Alum removes suspended solids, total organic carbon, in raw water via charge neutralization and flocculation. Liquid aluminum sulfate can also be used in paper mills, dye manufacturing and synthetic catalyst production. Aluminum Sulfate can be used to remove tiny particles which would otherwise be too difficult to filter via hydrolysis.
GRADES AVAILABLE
Technical
PACKAGING
in bulk quantities.
LIQUID ALUMINUM SULPHATE USES:
Water and Wastewater Treatment
BOD Removal
Chemically Enhanced Primary Treatment
Coagulation / Flocculation Agent
Color Reduction
Disinfection Byproduct Control
Oily Waste and Heavy Metal Separation
Stormwater Treatment
Struvite Control
Suspended Solids Removal
Total Organic Carbon Removal / Reduction
Water Clarification Papermaking
Paper Sizing
Retention Aid / Drainage Aid Environmental
Algae Control
Lagoon Treatment
Lake Treatment and Restoration SYNONYMS Alum, Aluminum Sulfate, Cake Alum, Filter Alum, Papermaker's Alum, Alunogenite, Aluminum Salt (3:2)
Our approvals