Pure Bitumen 115/15 SGS certified in 25Kg carton,bag and drum
What is oxidized bitumen 115/15
Bitumen 115/15 produce by injecting hot air and heating it, oxidization will start and the material become hard by spending energy and time.Bitumen 115/15 is semi solid oxidized grade of pure petroleum bitumen categorized in polycyclic aromatic hydrocarbons and
oxidized bitumen
 normally used for different purposes in the construction business.
Bitumen hard sealant 115/15 made by blowing hot air
In a process of thermodynamic and by hot air and heating up the material the bitumen will become hard and after spend time and energy we reach to
Bitumen hard
sealant 115/15. bitumen 115/15  
sealant
 is containing: 1. Saturates 2. Aromatic 3. Resin 4. Asphaltens Since containing above material there is special properties of thermoplastic, adhesive, resistance to water and acid, alkalis.
Application of  bitumen 115/15
a. Dam proof
Bituminous damp-proof modified with SBS can be cemented, for example, in a casting process with blown bitumen they are self-adheslve but they are sensitive to UV radiation and, therefore, as outer damp-proof courses, they must be provided  with high protective layer. Bituminous courses modified with APP can be fixed neither with oxidation bitumen nor with elastomer impact adhesives~
b. Canal sealer
The proportion of bitumen decreases towards the base course, but the coarse-grained fillers increase. However, the bitumen ensures the cohesion within the individual layers. During cutting as far as the asphalt base course, the laying channel is, then, dimensionally stable, with the result that no material caves in and the overall upper road structure remains intact.
c. Tennis court
A hybrid tennis court with one type of surface applied to one side of the net from the net to the back fence and a different type of surface applied to the other side of the net from the net to the back fence
d. Stockyard
The compositions are for use in a variety of environmental remediation barriers including fiber rolls, mats or blankets, and berms. Applications for the use of the compositions, devices, and methods include remediation of 
runoff water
, of livestock waste, of eutrification of waterways, and for the revetment of banks
e. Paving
Traditional tack coats are often tracked away from the intended application area, generally by the tires of construction vehicles that are allowed to travel over the partially constructed structure, and deposited on other road surfaces. Tracking, i.e., the pick-up of bituminous materials, is unsightly, damages the fresh asphalt film and results in less tack available to achieve maximum bond strength, leading to slippage and delimitation. This tracking can result in the existing pavement with little or no tack coat left in the wheel paths.
f. Railroad ballast
Typical binder contents in most asphalt mix designs range from 3 to 8 wt %. Stripping of the 
binder
 by the solvent is undesirable because this will result in decreasing the amount of binder in the 
asphalt mix
, which will downgrade the asphalt quality and render it out of specification
g. Treatment and road beds
Rut mainly occurs in the upper layer of 
bituminous pavement
.So adopt the better modified pitch of high bitumen 115/15 compound which has high-temperature stability making upper layer usually, this has improved the rutting resistance on road surface to a certain extent.But find that after deliberation even with the bituminous pavement of modified 
asphalt
 mixture making, rut still can occur after the driving use several years.
h. bitumen 115/15 backing carpet tile
The
carpet tile
is produced by coating a thick backing layer of a rubber-modified bitumen coating composition onto a secondary backing sheet material and separately coating a first precoat layer comprising a hot melt petroleum resin or bitumen and a second layer comprising a hot melt bitumen composition containing a flexible vinyl adhesive resin, like ethylene vinyl acetate, onto a fibrous back surface of a carpet material having a primary backing sheet containing a fibrous face wear surface and laminating the surface of the second layer to the surface of the backing layer to provide a carpet tile having dimensional stability, good lay flat characteristics and capable of production by an in-line production method.
i. bitumen 115/15 for painting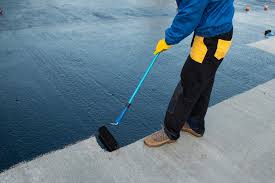 Bitumen 115/15 mixture with solvent high performance
bitumen paint
is an economical anti-corrosive, and protective solution on a wide range of common building materials especially iron, steel, timber and concrete, fibre reinforced cement panels & masonry. It produces a flexible quick drying coating which is waterproof, weatherproof and corrosion resistant.
Usage of bitumen 115/15
Usage of  Bitumen 115/15 uses in the chemical, fuel, paints, lacquers, varnishes, paper-pulp-board, textile processing, road construction, pavement ,crack seal and repairmen, civil works, roofing, construction industries; sealing and insulating buildings, adhesive, construction materials additive, dust-binding, coating, insulating and impregnating agent, make rubber and plastic products. The bitumen 115/15 products are for paving, roofing; also used in asphalt based paints for corrosion protection of metals, in lining public works structures, adhesives in electrical laminates, base for synthetic turf; typical uses for 
bitumen115/15
 include roofing, pipe coating, Portland cement pavement, hydraulic applications, paint manufacturing.
Bonding bitumen 115/15
Bonding bitumen compound is available in grade of 115/15 shape of
bitumen blocks
and using for joint seal also fixing bitumen roll sheet in case of damage or torn also adhesive of bonding material in different layer.
Packing of bitumen 115/15
The ATDM is manufacturer of  bitumen 115/15 in various packing including kraft bag, meltable plastic bag, drum and bulk 
bitumen 115/15
 from penetration grade bitumen, which is blown by hot air in a controlled process until the desired specification is reached. The ATDM bitumen 115/15 can be supplied in any grade and are designated by two numbers to indicate the softening point and penetration ranges. The 
blown asphalt
 grade 115/15 means softening point is 115°c and penetration is 15 desimillimiter is produced in compliance and conformity to ASTM standard and meets the following specification.
Carton on pallet 22.8 ton per 20ft container
each carton is 25Kg with possibility of OEM for packing for customer
able to pack in bag and arrange marking of customer on!
Guaranty/warranty of bitumen115/15
ATDM guaranty the quality of bitumen 115/15 with arrangement of international inspector to check quality and quantity of the bitumen on each shipment during the loading to vessel and controlling the production by QC team via batch test report before shipping. ATDM guaranty the quality to meet with ASTM/EN 13304:2009.
| | | |
| --- | --- | --- |
| | Specification | Test method astm/en13304 |
| Specific gravity @ 25/25 cg | 1.01/1.06 | D-70 |
| Penetration @ 25 c | 10/20 | D-5 |
| Softening point c | 110/120 | D-36 |
| Loss on heating(wt) % | 0.2 max | D-6 |
| Flash point c | 250 min | D-92 |
| Solubility is cs2(wt) % | 99.5 max | D-4 |
| Spot test | Negative | A.a.s.h.o.t102 |
Our approvals